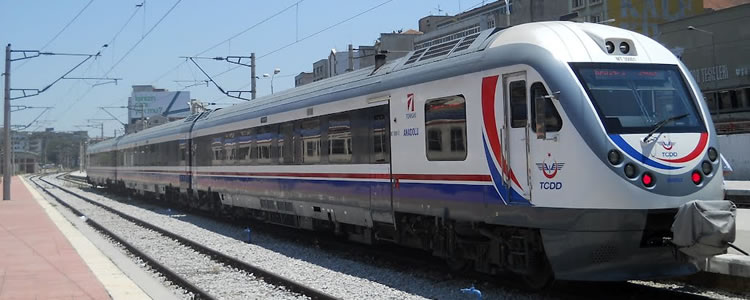 " IZBAN is running between Selcuk – Izmir Airport – Izmir Center"
An excellent way to travel in Turkey…
New modern trains are running between Izmir – Airport – Selcuk – Denizli. Its the comfortable and cheap way to travel on this route. Train stops at the İzmir Airport (Domestic).
"Furthermore, It is only 5 min walk away from International Airport to Domestic Airport"
You can take a minibus from Denizli Train Station to Pamukkale easily. Timetable is below..


You can buy tickets from travel agencies or at the train stations.  IZBAN  is now running from Selçuk – Izmir Airport to Izmir Centre (Alsancak Train Station) .  You can find the timetable below
TRAIN TIMETABLE "Updated 2023"
SELCUK → AIRPORT → IZMIR
IZMIR(BASMANE) →  SELCUK
IZMIR AIRPORT → SELCUK
SELCUK → DENİZLİ
DENİZLİ → SELÇUK → İZMİR
İZMİR – İSTANBUL – İZMİR, FERRY TIMETABLE ,YENIKAPI (ISTANBUL) – BANDIRMA,BANDIRMA – YENIKAPI