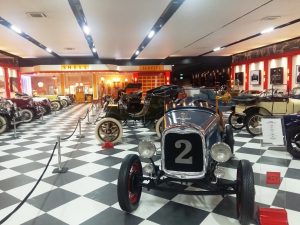 As I step into the hangar-like structure, I have an instant flashback to my childhood. It is like a roller-coaster ride to old memories, some not even my own, mostly images from an era that I witnessed through movies and magazines.
Is that the Bugatti that seduced Isadora Duncan to her tragic death? Is that the Stutz Elvis Presley drove? Oh no! That is the original Batmobile, is that for real?
Some cars will make you feel like you're in the Mad Men era, while others will take you to old Hollywood movie classics, and some are definitely from the good old Turkish movies of Yeşilçam, the local equivalent of Bollywood or Cine-Cittá.
This is the Key Museum, dedicated to classic automobiles, opened to the public on May 6 in the Torbalı district of İzmir. The museum was built on a vast, 7,000 square-meter area and hosts 130 classic cars dating from the 1880's to as recent as 2011. The collection is outstanding, even to the non-connoisseurs, including the first cars ever produced by brands like BMW, MINI, Mercedes-Benz, Cadillac, Ford and Porsche. The museum collection is not confined to cars only; there are 40 vintage motorbikes, 2,550 model cars and 300 bonnet emblems from cars of the pre-World War II period, plus a collection of car-themed scarves. Each car, or at least some with special stories attached to them, deserves their own stage-sets. There are pieces that will please the crowds, like the original Batmobile from the first Batman film and the exact same Stutz that Elvis Presley used to drive. The background is adorned by 1950's ads and neon signs, adding to the nostalgic feel. There is even an American diner-inspired glossy red café and a 1950's Shell petrol station, both standing as if they had popped out of an Edward Hopper painting.
Passion, Perseverance, Patience
The story goes back to the childhood of two brothers from the Özgörkey family (Key, coming from their family name) from İzmir. As many boys do, Murat and Selim Özgörkey were very fond of playing with model cars. However, in the years to come, their fondness extended beyond the playground. Murat showed early signs of being a keen collector, right from his first collection of matchboxes, and Selim had a deep enthusiasm for discovering how things were constructed and worked; he kept de-constructing and re-assembling model toy cars. Admittedly, both were a little obsessed about what they were into. Later in life, during their university years in Boston, they drove a BMW M3 1987, an iconic coupé model. Selim kept the BMW during his Vienna years when he was working for the Coca-Cola Company, but later sold it in London. A couple of years later, after returning to Turkey, Selim restored a JEEP CJ5, which also made Murat, who was already very much into collecting things from chess-boards to fountain pens, curious about restoring cars. Eventually, they decided to go after their mutual passion and get more serious about their car collection. The rest came quickly; one of their first acquisitions was their first sweetheart, the exact same BMW model they drove in their university years.

The museum today is the result of their hard work and collecting craze for the past 12 years. The Özgörkey brothers loved their toy Batmobile when they were kids, but even in their wildest dreams they did not see themselves having the real one. Their passion for cars and their patience and perseverance for collecting made that dream possible. Their parents were also responsible for a few more "P" traits: the patience of their mother Rüçhan in a house getting more and more crowded by toys, the perseverance of their father for sustaining the boys' hobby and last but not least, the passion of their mother and father for each other and the pride they have in their kids. Today, at 82 years old, Erdoğan Özgörkey is still at work every single day, a proud father seeing his kids still playing with cars, but this time playing big.
Later in the night, over a celebration dinner at the sublime Yengeç Restaurant in Urla harbor, Izmir Mayor Aziz Kocaoğlu promised to provide transport for schools that wish to bring their students to the museum. That is huge! Imagine all the kids wandering around like in a dreamland around those fantastic cars. The museum will inspire all those kids to follow their passions. That is what the Key Museum will do; it will provide the key to the future and prove once again that the key to the future lies in the past and learning from the past.
Key Museum
Özgörkey Cad. No: 5 Torbalı/İZMİR
Location:
The museum is 30 km from Adnan Menderes Airport in Torbalı, 45 km southeast of İzmir and is easily reached within 30-35 minutes from the city, or 20-25 minutes from the airport. Nearby is the ancient city of Metropolis and the world-famous Ephesus is just in 40 km away.
Visiting:
The museum is open five days a week, from Wednesday to Sunday, from 10 a.m. to 5 p.m., and is closed on the first day of religious holidays & New Year's Day. The entrance fee is 20 Turkish Liras for adults and 10 liras for 65+ seniors, students & teachers.