Metro (Izban) is now operating from Izmir Center(Alsancak)  via Izmir Airport until Selcuk.
Tepeköy will be the transfer station to go to Izmir Airport and Izmir Center from Selcuk until direct Izban  line starts soon. Find  Metr0/Izban Map below.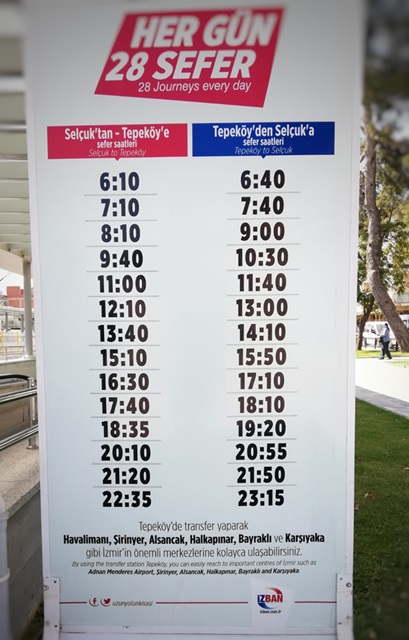 IZBAN, Izmir's Metro line, operates Metro-style trains from Selcuk to Adnan Menderes Airport (Havalimani station), Alsancak and Basmane railway stations, Karşıyaka, Çiğli and Menemen to Aliağa in the north.
New  shopping center
OPTIMUM

is just 2 stations (ESBAŞ)  away from İzmir Airport.  You can have a nice, modern shopping experience

while you are waiting for your flight.
PRICE : You can buy Metro/Izban  Card at the Stations /one way  Selçuk-İzmir Airport ( 11 TL  p.p  )
Izmir Kart, a durable chip card bought for 6 liras, then loaded with as much credit as you think you might use. If you plan to stay in Izmir for more than a day or two, this card may be the best option.
The entire IZBAN-line trip from Selçuk to Aliağa takes about 125 minutes.